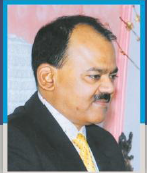 SHANKARA INSTITUTE OF MANAGEMENT & RESEARCH (SISMR) was established in 2009 at Jaipur, Rajasthan to impart "Education with a difference" in various disciplines of Management and meet the ever increasing need for competent managing personnel in our country. SISMR is in its 2nd year of operations, having shaped the future of more than 100 students.
The college is promoted by "S. K. Choudhary Trust", a non-profit charitable institution established for the cause and advancement of education in India. With a sprawling campus spreading over 27 acres of expanse, the harmonious environs provide the perfect setting for an unforgettable learning-teaching experience. The fully developed campus is supplemented by facilities for outdoor sports, gymnasium and indoor games. Students are regularly encouraged to participate in extracurricular activities which are wide and varied in nature. As a Premier Institute and Centre of Excellence, the college offers for the management aspirants, Master of Business Administration (MBA) with specialization in I.T., H.R., Finance, and Marketing.
The college has excellent residential facilities for both boys and girls. Artistically designed, well equipped and properly maintained hostels provide a homely atmosphere which helps the students to groom themselves in a holistic manner. Computerized laboratories & Wi-Fi Campus are some of the basic facilities that are available within the college campus for the students and college staff. With the primary objective of taking this college to new heights of glory and developing into a successful individual, the institution is constantly upgrading its facilities and services for qualitative all round progression.
Our Board of Governors .........